"between you & the printer"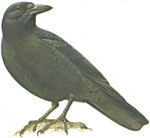 CROWE CREATIONS 163 Bell Street, Box 57081, Ottawa ON K1R 7E1 Canada  INFO@CROWECREATIONS.CA   613-220-5050
163 Bell Street, Box 57081, Ottawa ON K1R 7E1 Canada  info@crowecreations.ca 613-220-5050
What do we do here?
We edit, design, proofread, typeset, read manuscripts, check grammar, do research. Check out the Fees/Services page for a fuller description.

Attempting to ensure that what is meant by the writer is exactly what is understood by the reader, we editors often wade through a morass of dangling participles and confusing sentence structures on the communication highway, and often risk — not so much our lives, but — our likeability when we need to point out where a story went off track. Like the crow, we are often misjudged, misunderstood, feared, and loathed.   At Crowe Creations, we are aware of the sensitivities of burgeoning writers, so we do our best to be gentle.
Really Stupid Writing Mistakes: How to Avoid Them by Sherrill Wark is now available at  AMAZON.COM . RSWM is not so much about grammar and spelling mistakes, but about how to stop getting derailed and distracted when you're trying to write.  There's even a chapter called "Shameless Self-Promotion" — writers are a sensitive, introverted lot so we need all the encouragement we can get.